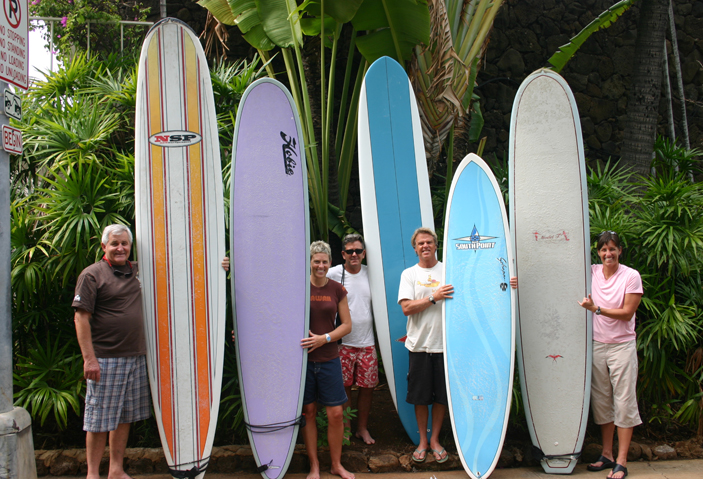 Surfboard rentals in Waikiki, Hawaii. We are a mobile surfboard rental company offering FREE islandwide surfboard drop off and pick up to any home, hotel or vacation rental in Honolulu, Hawaii. Our surfboard rental prices are some of the cheapest on the island! We rent quality, premium surfboards for surfing in Hawaii.
We rent paddle boards, soft racks and beach chairs too! 
Welcome to Hawaii Surfboard Rentals LLC, located in Honolulu, Hawaii. We are a mobile surfboard rental service offering free surfboard delivery and pick up to Waikiki, North Shore, Haleiwa, Turtle Bay, Ko Olina and more! Offering the lowest rates in Honolulu with the best quality surfboards for your Hawaii surfing adventure. Avoid the hassle and frustration of lugging your surfboard or paddle board to Hawaii, not to mention the high possibility of damage. We offer a convenient and affordable option to renting a surfboard while on vacation plus a great selection of shortboards, longboards, paddle boards and boogie boards perfect for surfing the waves of Hawaii.
Hawaii Surfboard Rentals also rents vehicle soft racks, beach chairs and coolers too!
Waikiki Surfboard Rentals and Hawaii Surfing Tips:
Whether surfing for your first time, just coming off a surf lesson or you've been surfing since the grom days, these tips and advice are sure to help when renting a surfboard in Honolulu, Hawaii.
1. Waikiki Surfboard Rentals
A longboard is the best choice for a Waikiki surfboard rental. The waves at most main Waikiki surf breaks tend to be long, lazy and rolly so a bigger surfboard than you normally ride would help to ensure an increased wave count, easy paddle, longer ride and an upper hand when competing against other longboarders and stand up paddle boards in the line up. The most common size surfboard for Waikiki is between 8'0" to 12'0".
2. Bigger Is Easier
If you're coming off a surf lesson or teaching yourself for the first time, we highly recommend riding a surfboard at least 9ft. long. Novice surfers over 6 ft. tall and/or 200 lbs. should ride a surfboard at least 10ft. long. Longer surfboards, known as longboards, have much more buoyancy and stability than shorter surfboards which in return will give novice surfers a much easier and enjoyable time surfing for his/her first few times. Also, expect a much longer ride as longboards produce much more glide than shorter boards. A longboard is highly recommended for a Waikiki surfboard rental.
3. Epoxy Surfboards vs Poly Fiberglass Surfboards
95% of our current surfboard rental inventory are of epoxy construction. Epoxy surfboards are stronger and lighter than traditional poly fiberglass boards plus more ding resistant. Expect more buoyancy and easier turning with an epoxy surfboard. The EPS foam used in our surfboards will not absorb water as fast as a poly fiberglass surfboard.
4. Surf Hunting 101
During Hawaii's summer season (June - September) most waves can be found on Oahu's South shore such as Waikiki, Alamoana, Diamond Head and White Plains beach. During Hawaii's winter season (October - February) most waves can be found on Oahu's North and West shores such as Haleiwa and Makaha. Hawaii Surfboard Rentals delivery service runs from Waikiki to Ko Olina to Haleiwa and more! Free islandwide delivery with a minimum 2 day rental or $100 minimum order for certain areas.
5. Surfboard Storage
Surfboard storage is provided by the bell hop at most hotels on Oahu. Hotels that do not have adequate storage space for surfboards may require their guest to store the surfboard in their room. Most hotel elevators can fit up to a 9'6" longboard and may also have an oversized service elevator. Hawaii Surfboard Rentals also has surfboard lockers avaialble to rent on Waikiki Beach near the Outrigger Waikiki hotel. Another option is to reserve a surfboard locker on Waikiki beach from Nalu Storage www.nalustorage.com
6. Surfboard Transportation
We rent vehicle soft racks! Transporting surfboards on a vehicle soft rack is safe and easy when correct measures are followed. Soft racks should be placed evenly apart on roof of vehicle to prevent any sort of "see-saw" effect from surfboard. Lay surfboard with fin forward and pointing up to the sky. Fins forward will ensure that even in the worst case scenario of your straps coming loose due to strong winds, the fins will prevent your surfboard from slipping out through the straps. Never exceed speeds of 55mph when driving with surfboards strapped to the car.